101 Exercises for the Soul
by Bernie S. Siegel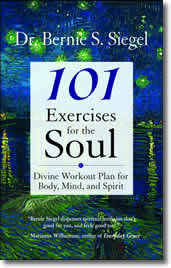 If you're already committed to a weekly Pilates class, a Saturday morning run, or regular visits to the Stairmaster, then it won't be much of a stretch to learn that not only does your body need regular exercise, but so does your soul. Sometimes the spiritual life can be so focused on the interior that we forget it's also something we should do.
Those looking for a little guidance in the practice of faith can find a capable coach in Dr. Bernie S. Siegel, a pioneer in mind-body medicine and author of the bestselling Love, Medicine, and Miracles (HarperCollins). His latest book is 101 Exercises for the Soul: A Divine Workout Plan for Body, Mind, and Spirit and is chock full of creative ways to exercise your spiritual muscles.
Siegel offers five exercises in each of 20 chapters for a total of 100, with the 101st as a "final exam." Each chapter begins with a "coaching tip" on the topic, ranging from "Find your voice" and "Do the things you love" to "Flex your creative muscles" and "Do what you fear."
Included are a few of the more traditional spiritual practices from the world's great religions—prayer, meditation, mandalas, and totems—but all are described in a decidedly non-institutional way. For example, about prayer, Siegel says: "Find a method of prayer that works for you. Communicate with the divine and pray for yourself, those you love, those you don't, and to help the world become a more peaceful and love-filled place."
Most of the suggested practices are created with the individual practitioner in mind. Whether encouraging people to spend time with their baby pictures to remember their "divine inner child" or to write their fears on slips of paper and store them away in a box, many of Siegel's suggestions have a "New Age" feel to them. The exercise to create a personal altar, for example, suggests using statues of a Buddhist goddess or mythic figures and goddesses. Other recommendations for the altar include "feathers, candles, bells, flowers, candy hearts, shells, cards, belongings and gifts from loved ones, or photographs." All well and good, but what about any traditional symbols?
A sizeable number of the exercises are tried and true: take a bath to relax, keep a dream journal, create a scrapbook to take stock of the past. But a few were quite creative. I liked the suggestion to turn off the lights one night at home and sit in the darkness and quiet. Another was to keep a journal of all your activities for one week, so you could have a concrete record of how you spend your time and then could reevaluate your priorities. The idea to choose a theme song for your life and sing it often might have been borrowed from Ally McBeal's therapist.
This is a nice book for beginners, written in simple, accessible language and with a non-judgmental attitude for those on a less-than-traditional spiritual path. But those looking for a meatier book with more of a connection to Judeo-Christian traditions may be disappointed. Either way, adding some concrete spiritual practices to your life is sure to enrich it.


Copyright ©2005 Heidi Schlumpf



Help explorefaith.org. Purchase a copy of 101 EXERCISES FOR THE SOUL by following this link to amazon.com.