Editorial Board

Michael Battle

is Provost and Canon Theologian at the Cathedral Center in the Episcopal Diocese of Los Angeles. Formerly he served as Vice President, Associate Dean of Academic Studies and Associate Professor of Theology at Virginia Theological Seminary in Alexandria, Virginia.

The Rev. Dr. Battle is a priest, writer, speaker and retreat leader, focusing on Christian non-violence, human spirituality, and African Church studies. He has worked as an inner-city chaplain with Tony Campolo Ministries, and in Uganda and Kenya with Plowshares Institute. In 1993-94, Battle lived in residence with Archbishop Desmond Tutu in South Africa and was ordained by Tutu in Cape Town, South Africa. He holds certification in spiritual direction from the Shalem Institute.

From his experience, Battle has authored such books as Reconciliation: The Ubuntu Theology of Desmond Tutu; The Wisdom of Desmond Tutu; and Blessed Are The Peacemakers: A Christian Spirituality of Nonviolence. His latest book, co-written with Tony Campolo, is The Church Enslaved: A Spirituality of Racial Reconciliation.

Visit Michael Battle's Web site.
A renowned Jesus scholar with the highest of national and international credits and praise, Dr. Marcus Borg has written many books including his widely known Meeting Jesus Again for the First Time and Reading the Bible Again for the First Time. His most recent works are: The Heart of Christianity, The Last Week (co-authored with John Dominic Crossan), and Jesus: Uncovering the Life, Teaching and Relevance of a Religious Revolutionary His work has been translated into nine languages; he lectures extensively throughout North America and overseas.

A retired Bishop of the Episcopal Diocese of Los Angeles, Frederick Borsch is presently Professor of Anglican Studies at the Lutheran Theological Seminary at Philadelphia. Educated at Princeton, Oxford and the General Theological Seminary, his Ph.D. degree is from the University of Birmingham in England. He is presently also Adjunct Professor of Religion at the University of Southern California. Contributor of essays, articles and poetry to a number of journals and newspapers, he is the author or editor of 17 books, most recently The Spirit Searches Everything. He has been a conference leader and given university and seminary lectures at a number of institutions in this country and abroad.

The Rev. Dr. Fred Burnham is the former director of Trinity Institute, a program for the continuing theological education of Episcopal clergy and laity sponsored by the Parish of Trinity Church, New York City. He was educated at Harvard, the Episcopal Divinity School, Cambridge University, England, and The Johns Hopkins University, where he received a Ph.D. in the History of Science. He also holds an honorary degree from Hobart and William Smith Colleges. He writes and lectures on the relationship between science and religion.
During his sixteen-year tenure as the third director of Trinity Institute, Dr. Burnham has broadened the Institute's audience by inaugurating The Episcopal Cathedral Teleconferencing Network, an interactive satellite-broadcasting medium.

Jon M. Sweeney is the author of many books that present key people, events, and legends of the Middle Ages to a wide audience. Light in the Dark Ages: The Friendship of Francis and Clare of Assisi was a selection of the History Book Club, Book-of-the-Month Club, and One Spirit, Crossings, Reader's Subscription, and Quality Paperback book clubs.
His memoir, Born Again and Again was named one of the "Best Books of 2005" by Spirituality & Health magazine and awarded an "Award of Merit" by Christianity Today.
Jon's look at embodied prayer across the religious traditions, Praying with Our Hands, was featured on PBS's "Religion & Ethics Newsweekly"; and his edited version of Paul Sabatier's classic biography of St. Francis, The Road to Assisi, was also a selection of History Book Club and Book-of-the-Month Club.
For many years, Jon was the co-founder and editor-in-chief of SkyLight Paths Publishing, a multifaith trade book publisher in Vermont. Since 2004, he has been the associate publisher at Paraclete Press.

Before becoming a full-time teacher in 1997, Barbara Brown Taylor spent fifteen years in parish ministry. In 2001, she joined the faculty of Columbia Theological Seminary in Decatur, Georgia, as adjunct professor of Christian spirituality. An editor-at-large for The Christian Century and sometime commentator on Georgia Public Radio, she is the author of numerous books including Leaving Church: A Memoir of Faith (Harper San Francisco 2007), When God Is Silent (Cowley 1998) and Speaking of Sin: The Lost Language of Salvation (Cowley 2000).

Visit Barbara Brown Taylor's Web site.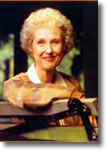 Phyllis Tickle is the former Contributing Editor in Religion to Publisher's Weekly, the international journal of the book industry. Frequently quoted in sources like Newsweek, Time, Life, The New York Times, USA Today, CNN, C-SPAN, PBS, BBC, VOA, etc., Tickle is an authority on religion in America and a much sought after lecturer on the subject. In addition to lectures and numerous essays, articles, and interviews, Tickle is the author of some two dozen books, most of them in religion and spirituality. Two of her most current books are: The Words of Jesus: a Gospel of the Sayings of our Lord and This Is What I Pray Today The Divine Hours™ Prayers For Children.

Visit Phyllis Tickle's Web site.