exploreprayer iPhone application
What do you want to pray for today? The exploreprayer iPhone app can get you started.

You can pray anywhere, anytime; God is always listening. What helps is a guiding hand offering ways to pray that can deepen and focus your prayer experience.
exploreprayer is a prayer process that features more than 600 prayers and reflections to help you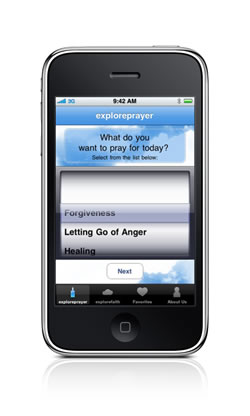 think deeply and intentionally about what you want to communicate to God. Choose your prayer intention, and let exploreprayer be your guide as you:
• reflect on words of wisdom from Scripture and other timeless sources
• write your own prayers
• store your prayers and share them with others
• receive prayers and blessings for your particular situation
• schedule reminders for prayers throughout your day
Each time you access your exploreprayer application, you'll be asked the question, "What do you want to pray for today?" exploreprayer then supplies a list of possibilities for your prayer intention:

Would you like to pray for 
• Forgiveness • Letting Go of Anger
• Comfort for Grief and Sadness • Healing 
• Relief from Fears and Worries • Troubled Times 
• Hope and Grace • Seeking Purpose 
• Your Spiritual Journey • Offering Thanks • Friends and Loved Ones
After you choose your prayer intention, exploreprayer sends you a meaningful quote or scripture passage that corresponds to the prayer purpose you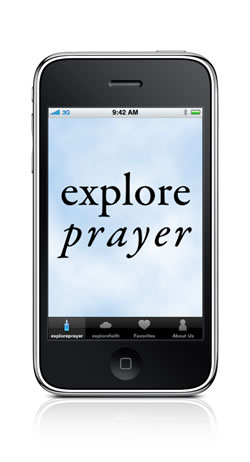 selected and helps you think about how and what you want to pray.
Next, you'll receive the beginning of your prayer… a prayer prompt that will help you form and write the prayer that expresses your soul and spirit.
While your prayer is between yourself and God, exploreprayer offers you the option of sharing your prayer with others using email, Facebook or Twitter, blessing them with your words and intention.
You can also store your prayer and return to it later. exploreprayer's reminder feature allows you to revisit your prayer at scheduled intervals, nudging you to pray the prayer again and again, strengthening your connection to the Holy.
Finally, you can choose to receive a prayer from explorefaith.org. This too is tied to your selected prayer purpose; it is a special prayer or blessing this is meant for you to use as you like, either to store on your iPhone or iTouch or to send to friends and loved ones through Facebook, Twitter or e-mail.
exploreprayer features:

• Prayer intention browsing 
• Prayer prompts for getting you started 
• Share, e-mail and store capabilities 
• Customizable reminder feature 
• Option to receive a prayer or blessing from explorefaith.org
By helping you focus your prayer intention, providing words of wisdom and guidance for your particular situation, and giving you a way to start your prayer, exploreprayer helps you think deeply and intentionally about what you want to communicate to God. Storing your prayers helps you keep track of your prayer life, and discern those places where you particularly want to feel God's presence. Plus, sending your prayer to others invites them to share in your spiritual journey as companions who can hold your hand and walk with you on God's path.
Whether you are looking for comfort or healing, wanting to give thanks for something or someone special, or searching for answers to questions that won't go away, exploreprayer offers tools that can help start the conversation. Through prayer, we open our souls to the wonder of God's love and constant presence. Prayer is our way to talk to God, to let God know our thoughts, to share our pain and our deepest dreams and feelings. The miracle is that even when we are not sure God is present, God is there--embracing us with love and listening as we pray.
Now updated and offered at a special introductory price of $.99 at the iPhone App store.
Proceeds from the exploreprayer spiritual tool help support the ministries of explorefaith.org.
explorefaith.org gratefully acknowledges the contributions of Renee Miller, the Rev. Margaret Jones, the Rev. Mary Earle, and the Rev. William Kolb, whose prayers were included in the exploreprayer application.